How it works
---
To get started, answer some very straightforward questions about your building design, such as the number and type of apartments, how many levels there are, or if there is a car park, etc.
Based on these inputs, we run that data through our solving engine, which conducts over 3,500 calculations in less than two seconds.
From these outputs, we can provide precise engineering requirements for your development covering mechanical, electrical, hydraulic, fire protection and lift services.
---
Optimise your design
---
Meet our engineering dashboard. Here, you can get a deep understanding of the plant space required for your building. The dashboard will show you where plant space is needed, breakdowns and comparisons of the numbers, and bottom-up cost estimates. Here you can see what services are taking up the most space or costing you the most money. The user-friendly interface will also allow you to run multiple options and scenarios and compare which combinations of preferences and system choices work best for your building.
For example, if you want to reduce roof plant space, produce a high-end product, or simply minimise capital costs, all of this is possible using our intuitive engineering dashboard.
---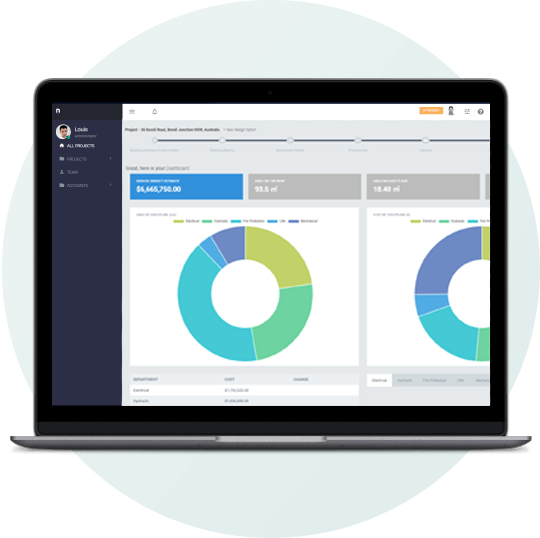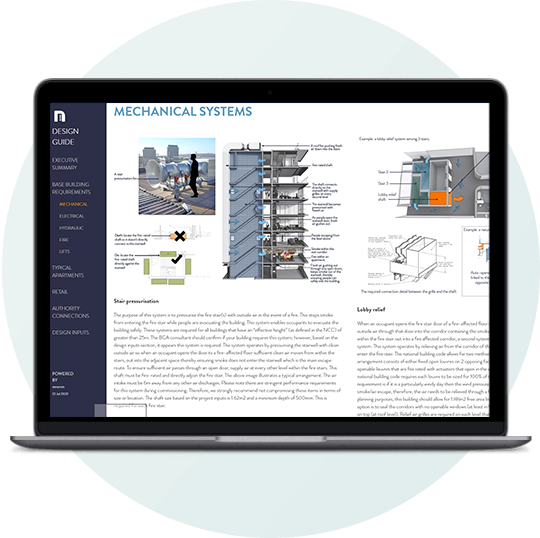 Design Guide
---
Our 'Design Guide' has been thoughtfully produced to step architects and designers, of all levels of expertise, through each engineering requirement. This dynamic document is automatically tailored to your specific preferences and focuses on providing a deeper understanding of each engineering requirement to aid with informed decision making.
The executive summary focuses on the key issues specific to your development. It includes an itemised list of engineering spatials and a comprehensive, but easy to digest, explanation of each system. Be sure to use the hyperlinks to navigate quickly. It uses dozens of high-end illustrations and embedded educational videos to provide the 'what', 'where' and, 'why' for each element to enable the design team to design better buildings quicker!
---
The big sell for me is time. From 3 weeks to 20 minutes for the same or better output. That's the big selling point.

Reducing upfront cost and time is a winner, delaying costs can have a huge positive impact on IRR.

This tool will actually improve building design.

The ability to realise cost changes through developing options in the same project provides a great interface for property investors
Contact us for a demo
---
Please enter your details below, and someone from our team will contact you shortly.